The 1999 Champions League final will always be remembered for the last 3 minutes.
Ferguson's substitutes were seen as the turning point, even being voted the best ever decision in sports history by a team of Sky Sports experts.
However, well before the late goals from United, the game - which was dominated by Bayern - was already changing in United's favour. Rather than the last three minutes, the last ten minutes were what shifted United's fortunes. And it all started with a substitution by Bayern Munich.
Bayern Munich led Sir Alex Ferguson's side with just injury time left, only for substitutes Teddy Sheringham and Ole Gunnar Solskjaer to score and end Manchester United's season with an unprecedented treble while the Bavarians were left heartbroken.
'People were just asking why did Lothar Matthaus go out in the 80th minute? Because that was our plan. He was getting older at that time - he was 38-years-old - so he played to that standard. We brought in Thorsten Fink to come and hold in the midfield for us because that's what we were doing throughout the season. Things didn't go as planned,' Sammy Kuffour said, infamously known for his emotional outburst following Solskjaer's winner.
Matthaus was arguably one of the best midfielders of all time and even at 38, was influential to both his team and nation. While Bayern's decision to substitute him wasn't wrong, it said something to United. Bayern thought they had the game won. They wouldn't be wrong to either as they were dominating right from their opening goal in the sixth minute by Mario Basler. However, it was the perfect motivation for Ferguson's side to change the game in their favour.
'By leaving, Lothar did Manchester United the greatest favour.' Bayern Munich and Germany legend, Paul Breitner recalled and he wasn't wrong.
Ferguson went on to bring Solskjaer into the mix one minute after Matthaus' substitution, replacing Andy Cole.
'In the second half, I was just waiting for him [Ferguson] to give me the nod. I was warming up and warming up, waiting and waiting to catch his eye. I was thinking: Why don't you put me on? because I had come on and scored against Liverpool and Nottingham Forest and I had a premonition I was going to do something that night,' Solskjaer recalled.
The substitution already looked like paying dividends as the Norwegian had a couple of half chances as United looked more threatening than ever with more than a couple of chances to peg it back to 1-1.
Soon, it was the 90th minute and Gary Neville's cross was deflected for a corner. Commentator Clive Tyldesley's famous words at this time were "Can Manchester United score? They always score!" - a quote that will forever be immortalized in United's history.
Ferguson's side had made a habit of coming from behind that season from coming from 1-0 down with two minutes left to beating Liverpool 2-1 in the FA Cup, beating Arsenal in the FA Cup with 10 men, coming from behind against Juventus in both their Champions League semifinal ties and coming from behind to beat Tottenham in the last league game of the season. If United were going to respond, this was when they were going to do it.
Peter Schmeichel went up for the corner as it was squeaky bum time for United. His presence helped as the corner from David Beckham resulted in a scramble in the box before a shot from Ryan Giggs was turned into the net by substitute Teddy Sheringham.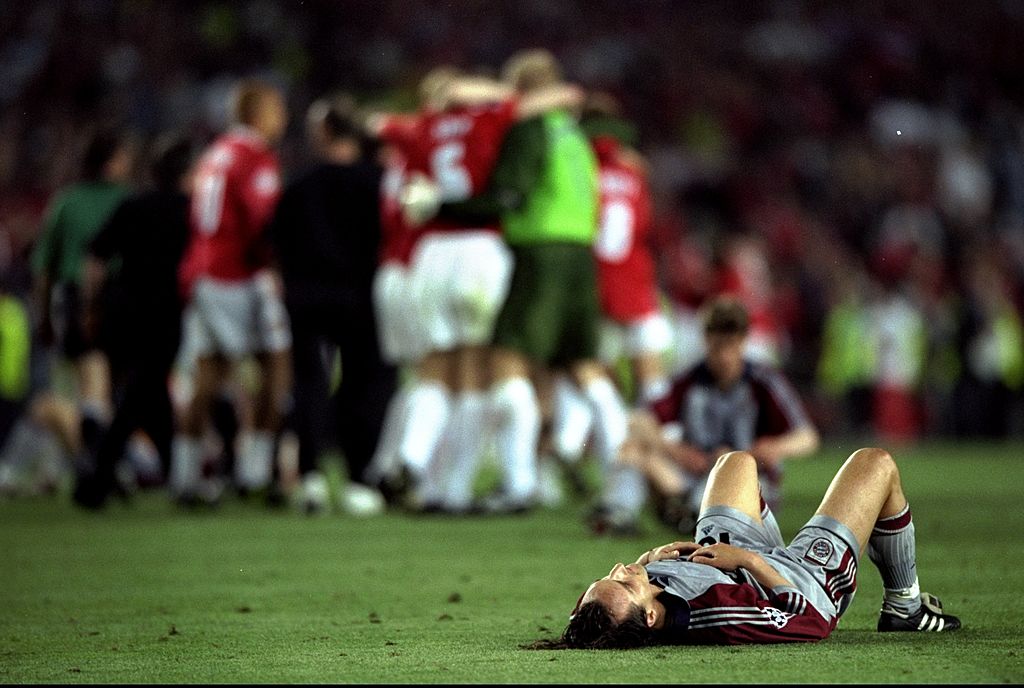 Matthaus could only look on from the sidelines in disbelief. Even the commentators sensed something more was about to happen as they mentioned that Bayern were now without Matthaus for the rest of the game (along with Basler who was substituted minutes before the equalizer), now that United were back in it.
Less than 30 seconds after kickoff, Solskjaer made a run and received the ball out wide, forcing a corner from Kuffour. Another Beckham corner was nodded on by Sheringham before Solskjaer's slight touch sent the ball in the back of the net. With the players celebrating with the United faithful, a pandemonium in the stands, Ferguson celebrating on the sidelines, Schmeichel celebrating with a handstand and the Bayern players in shock, United had made history on what was an unforgettable night. It was prophetic given how many times United had come from behind that season.
But in a way, Bayern Munich helped them do just that with ten minutes to go.
If you're a United fan, that night probably ranks as one of the most memorable of your life.
Celebrate it with one of our pieces of Manchester United Memorabilia signed by Teddy and Ole here.