Still looking for the perfect gift for your secret Santa?
Exclusive Memorabilia have a wide range of personally signed memorabilia for every secret Santa budget. Our memorabilia makes the perfect gift.
They will receive an authentic item signed by their favourite icon. A unique and thoughtful gift, it is also a great investment as the value often increases as the years go by.
Gifts under £10
Steve Redgrave Signed Olympics Rowing Photo: Sydney Gold Medal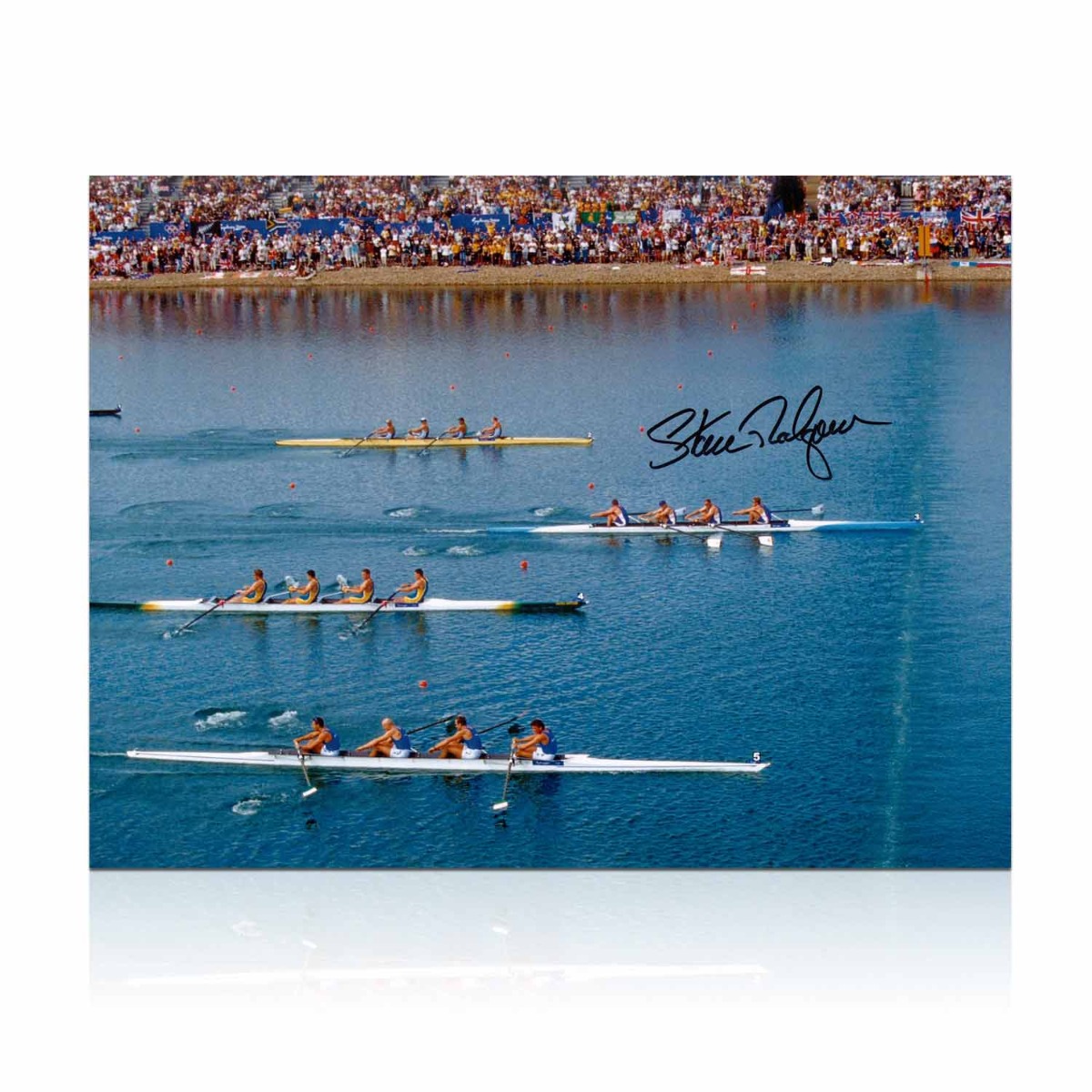 Commemorate the incredible achievements of one of Britain's greatest Olympians, Sir Steve Redgrave. An incredible photo showing him in the coxless four crossing the finishing line in Sydney 2000 to capture his fifth gold medal.
Gifts from £10-£20
Darren Clarke Signed Photograph: Slaying The Tiger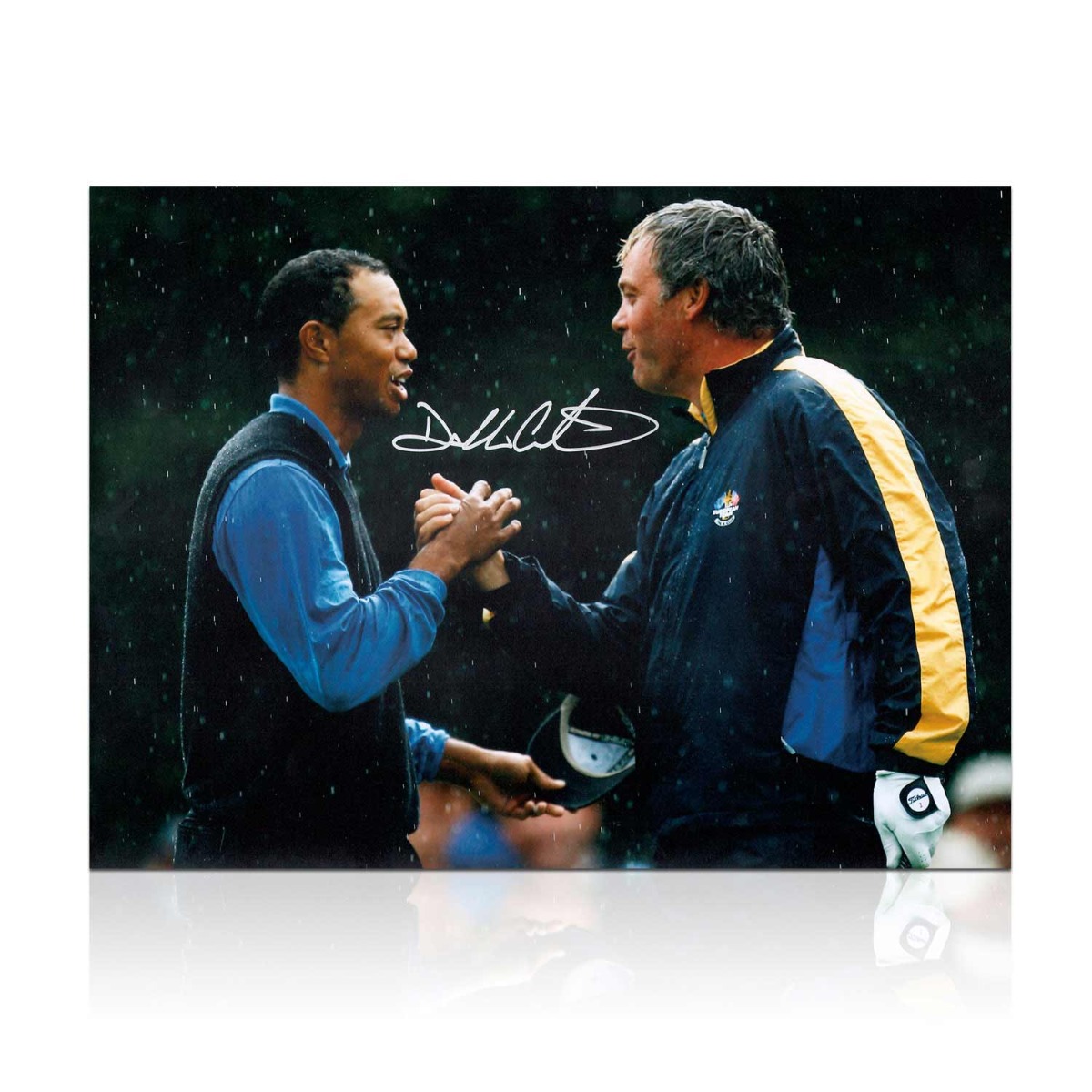 Looking for a gift for a golf fan? Here's a signed photo of 2006 Ryder Cup Europe captain, Darren Clarke defeating Tiger Woods. This picture is from 16th green during the morning fourballs on the second day of the 2006 Ryder Cup.
Gifts from £20-£30
Bryan Robson Signed Manchester United Photo: Goal Celebration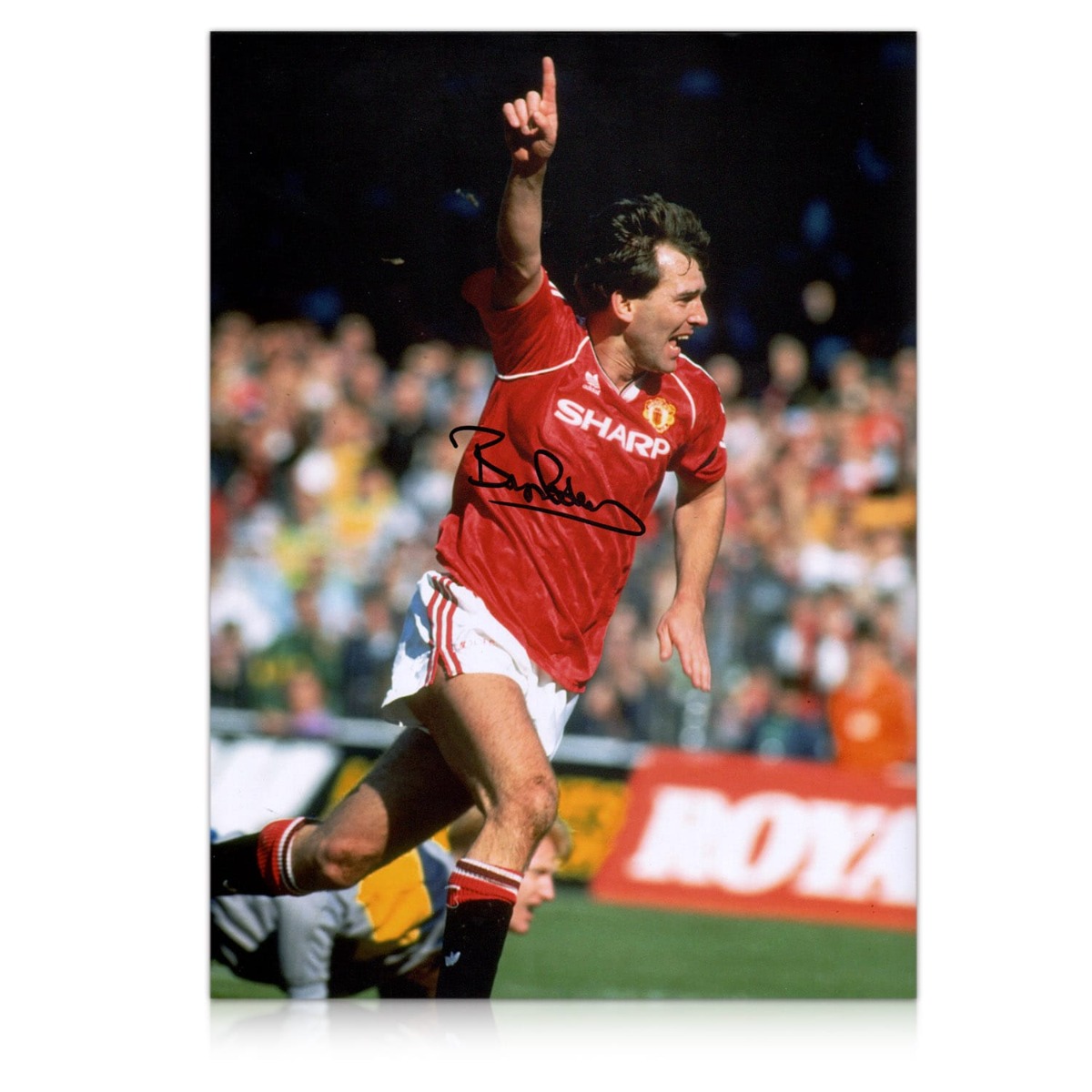 The perfect gift for a United fan. It shows Bryan Robson celebrating after scoring the first goal during the FA Cup Semi-Final against Oldham.
Lester Piggott Signed Horse Racing Photo: Nijinsky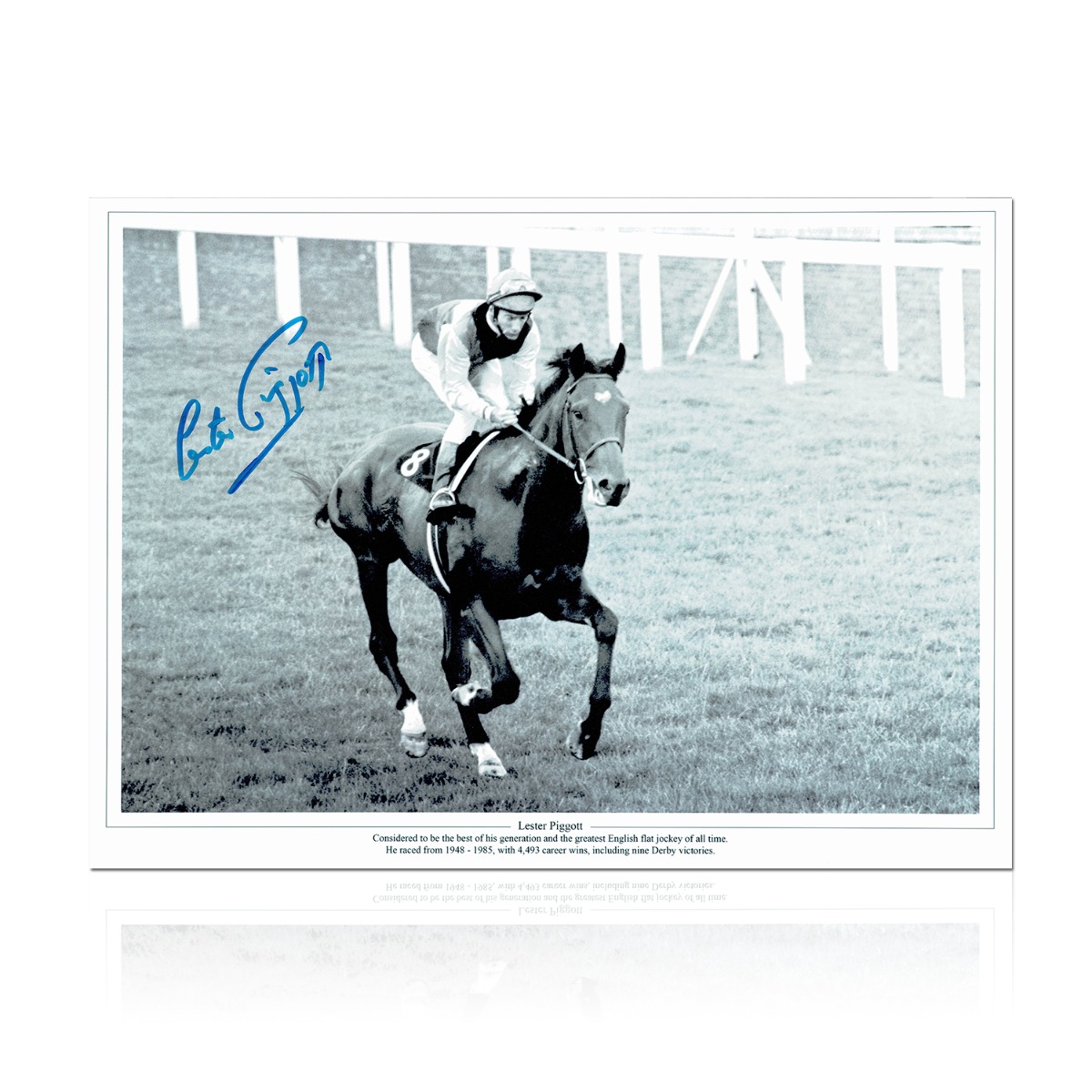 Does your secret Santa enjoy horse racing? This black and white photo shows Lester Piggott and the horse Nijinsky, who had a memorable 1970 Epsom Derby victory when together they set the fastest time for 34 years.
Ian Wright Signed Arsenal Photo: 179 Goals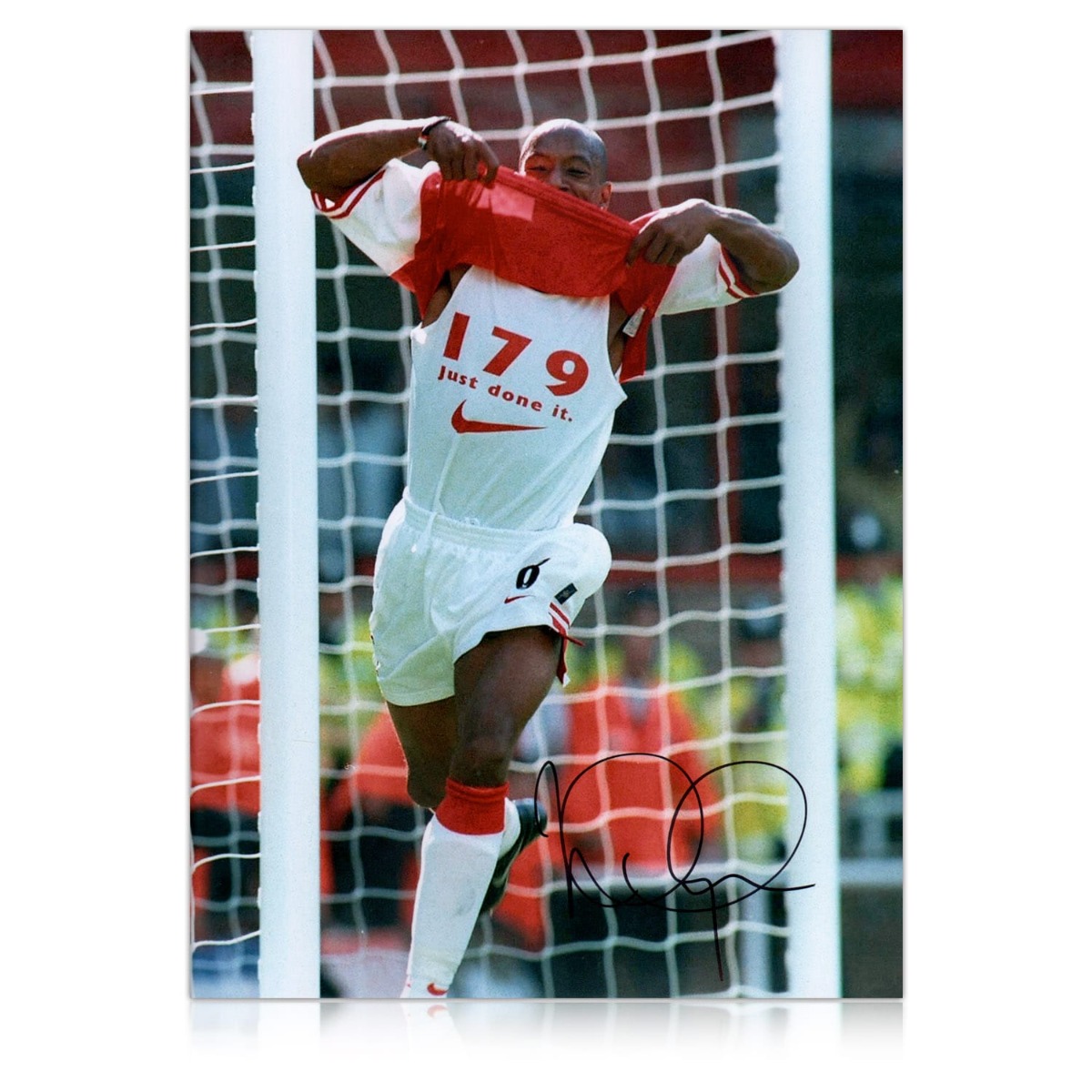 Ian Wright, Wright, Wright. The charismatic striker is an Arsenal legend. This photo shows Wrighty celebrating after scoring his 179th goal for Arsenal, and in so doing, becoming the Gunners' all-time record goalscorer.
Phil Taylor Signed Darts Photo: The Power
Looking for a gift for a darts fanatic? Get them a photo signed by the greatest darts player of all time. Phil "The Power" Taylor has won a record 16 World Titles.
Geoff Hurst Signed England Football Photo: 1966 World Cup Third Goal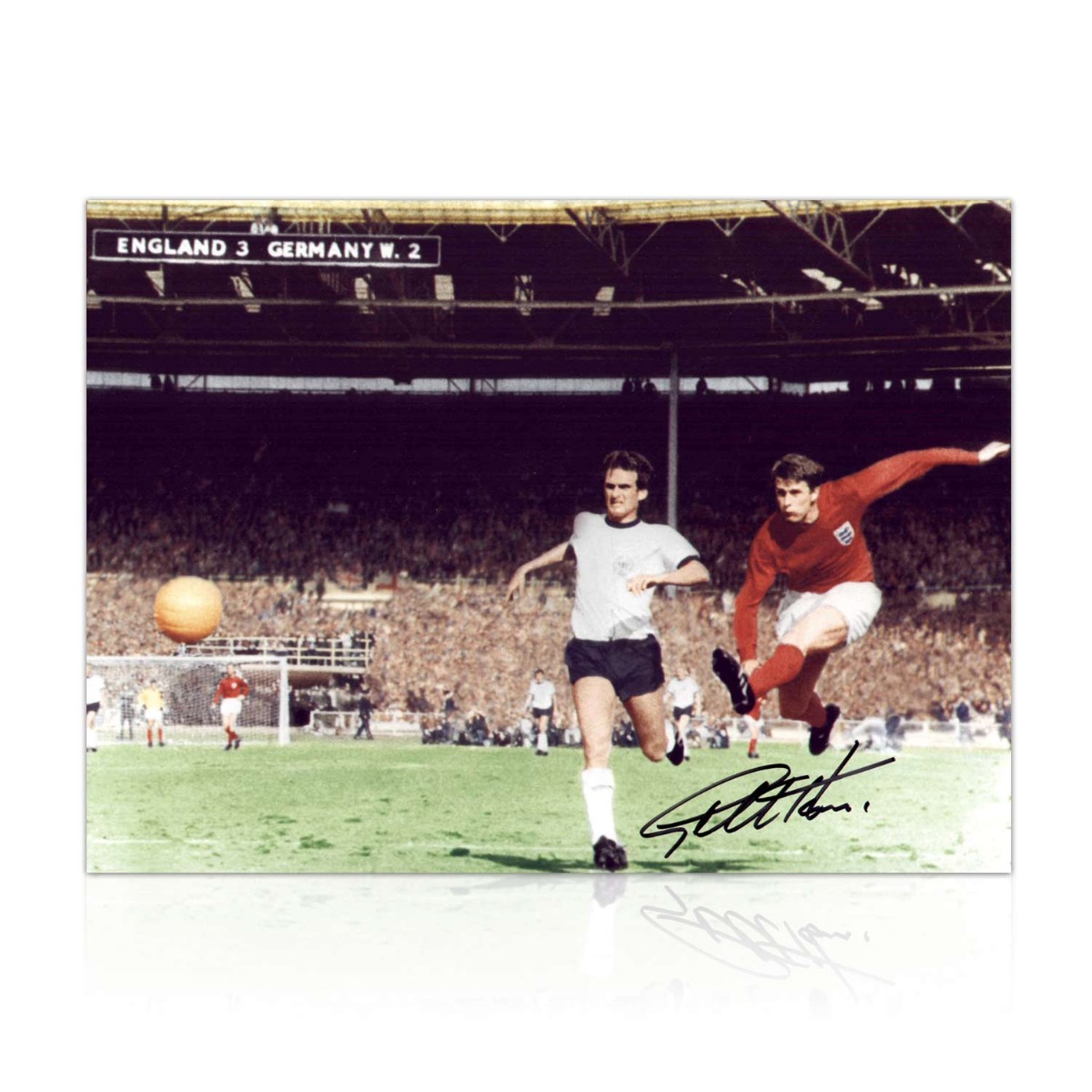 "Some people are on the pitch. They think it's all over... it is now!" Celebrate the England Football teams greatest achievement, winning the 1966 World Cup in England. This amazing photo shows Sir Geoff Hurst scoring the final goal in his hat-trick when England beat West Germany 4-2.
Steve Davis Signed Snooker Photo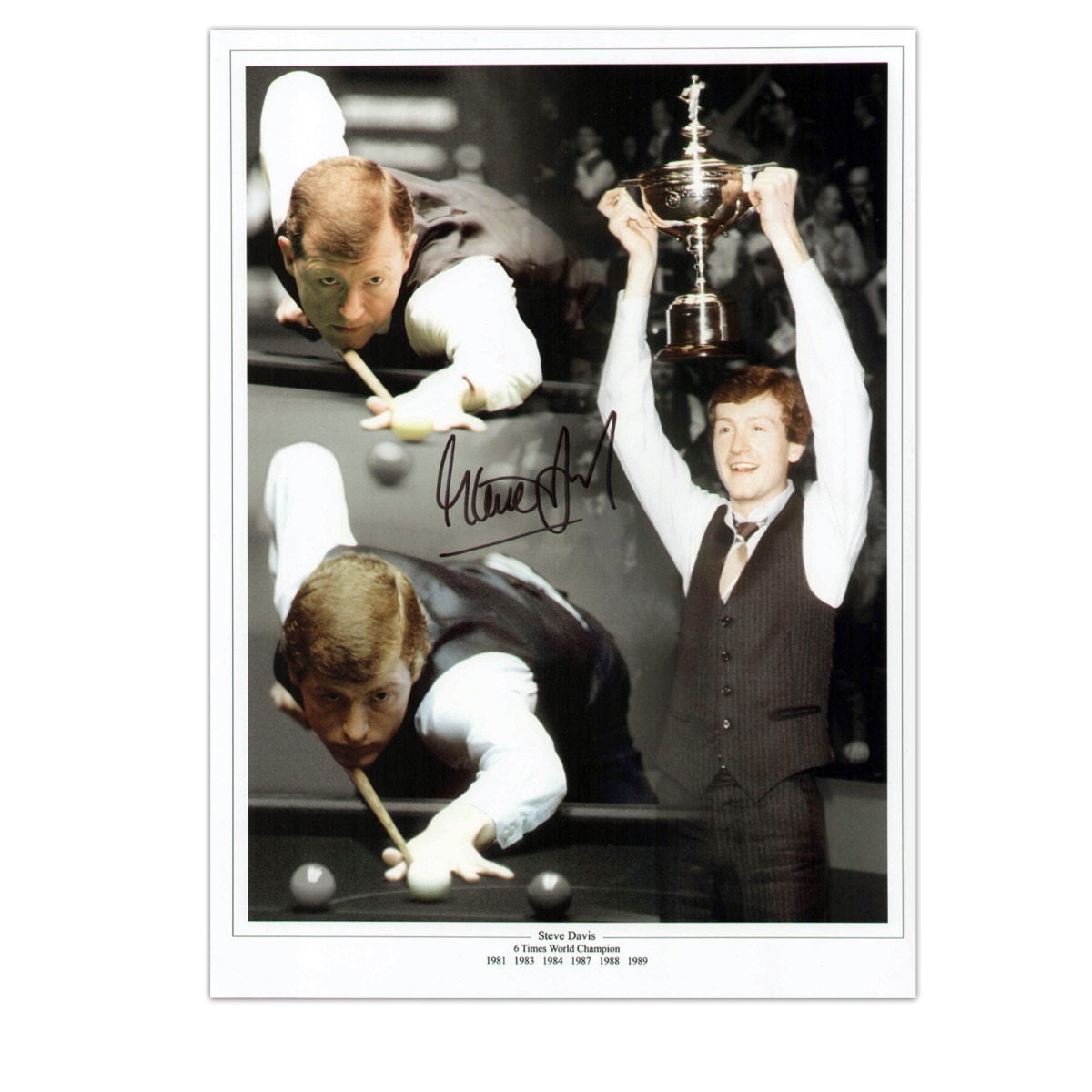 Is your secret Santa mad about snooker? This eye-catching montage has been personally signed by snooker legend Steve Davis. The Nugget has won more professional titles in the sport than any other player, including six World Championships during the 1980s, when he was the world number one for seven years.
Gifts from £30-£40
Martin Johnson Signed England Rugby Photo: On The Podium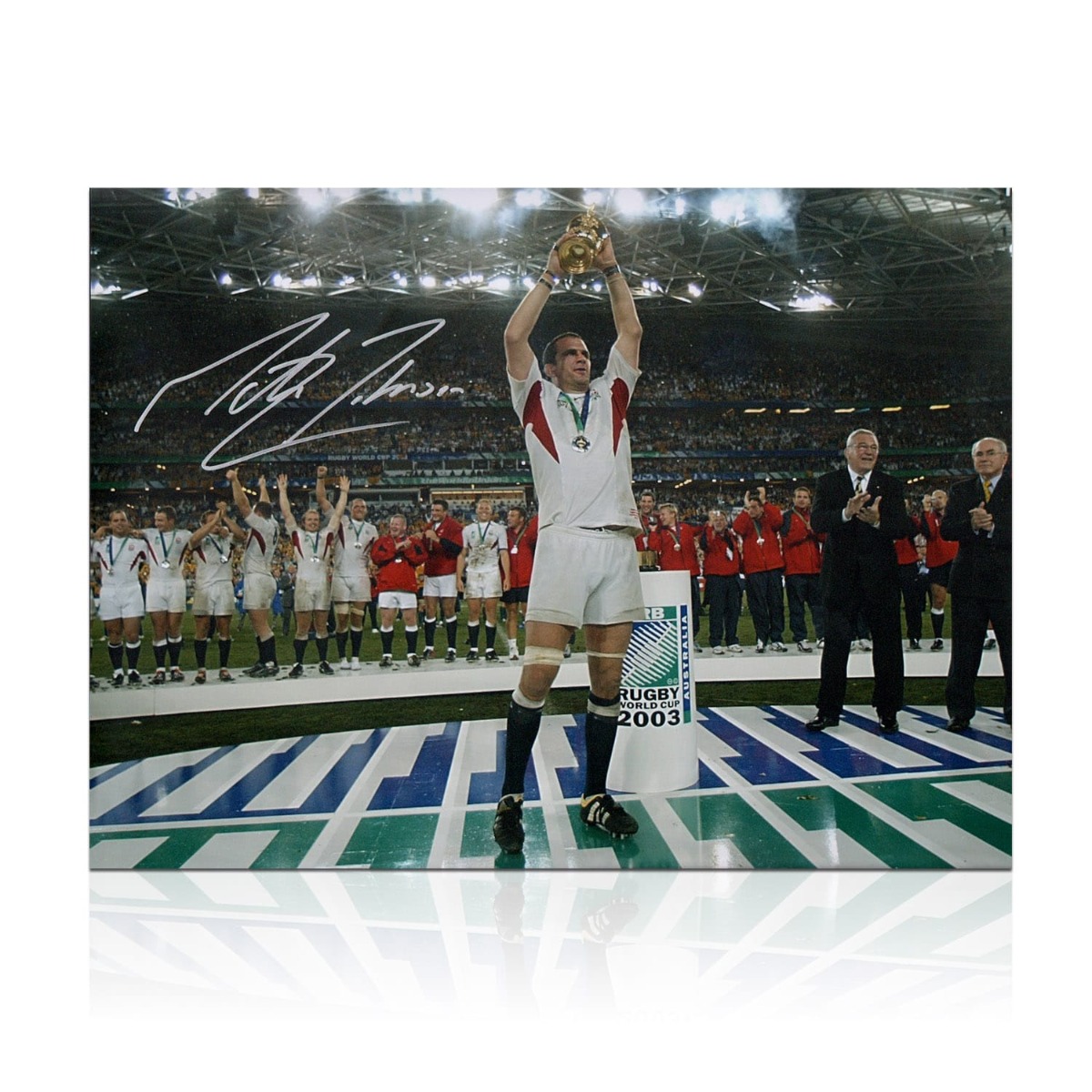 Looking for a gift for a Rugby fan? This memorable photo shows captain Martin Johnson on the podium lifting the Webb Ellis trophy after he led England to a sensational victory over Australia in the 2003 Rugby World Cup. It remains the greatest moment in English rugby history.
Ron Harris And Peter Bonetti Signed Chelsea Photo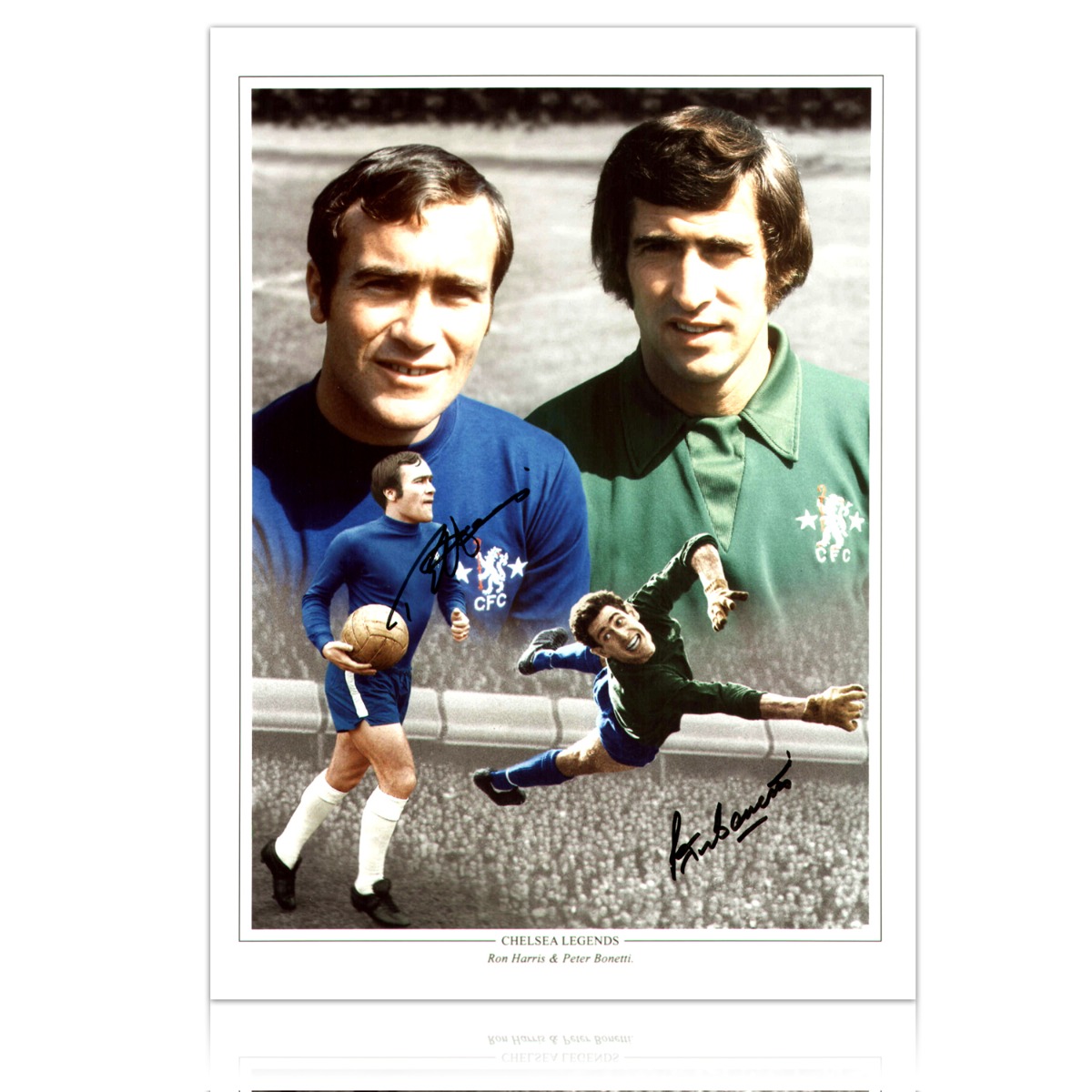 Chelsea fan? Look no further than this photo of two Chelsea greats. Ron "Chopper" Harris and Peter Bonetti. An amazing photo that shows the two Chelsea players lifting the FA Cup after their famous victory over Leeds United in 1970.
Paul Gascoigne Signed Rangers Photo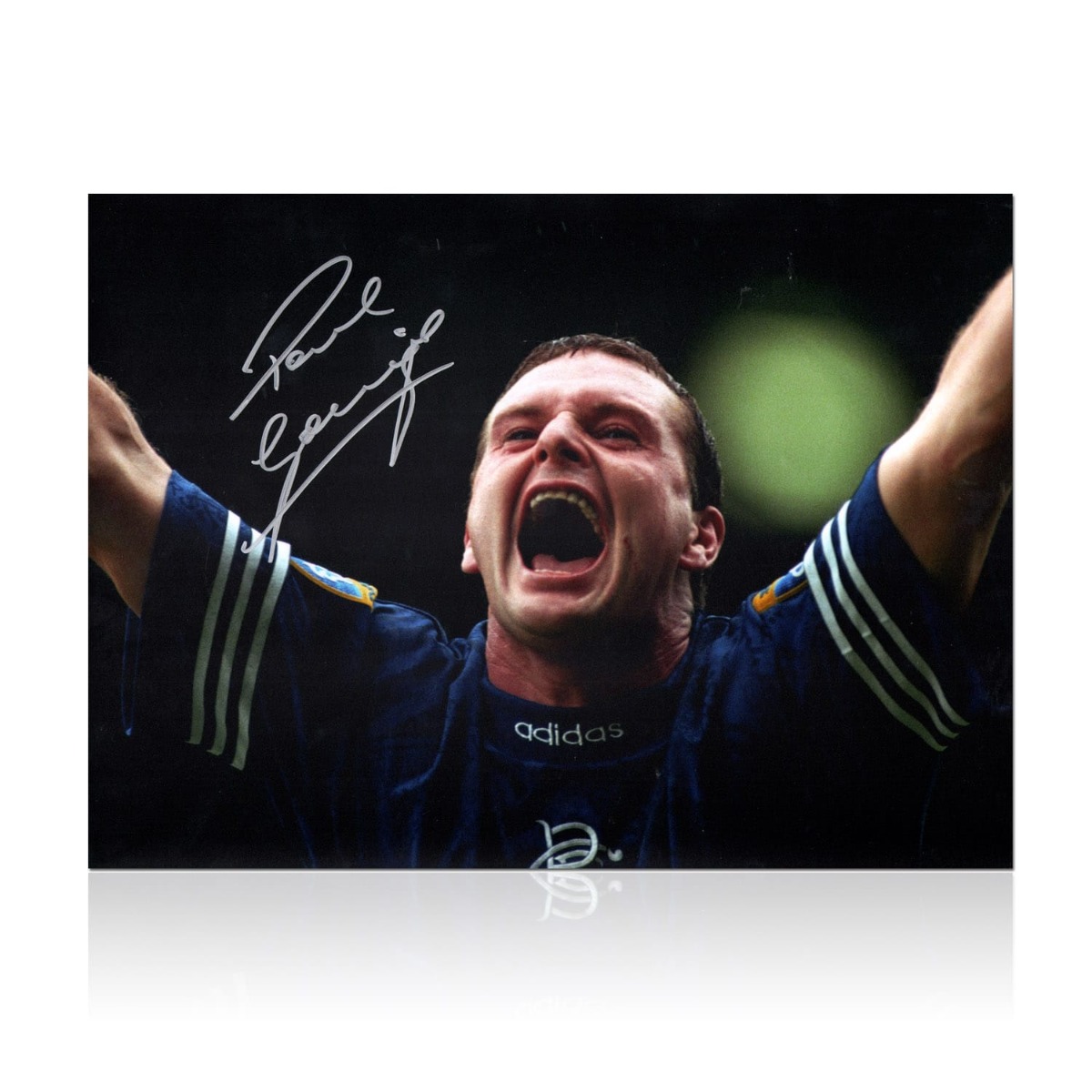 Buy a Rangers fan this memorable photo of Paul Gascoigne at Rangers. This signed photo shows Gazza celebrating after scoring a memorable goal against Celtic on his Old Firm debut, on September 30, 1995.
Peter Shilton Signed England Photo: The Hand Of God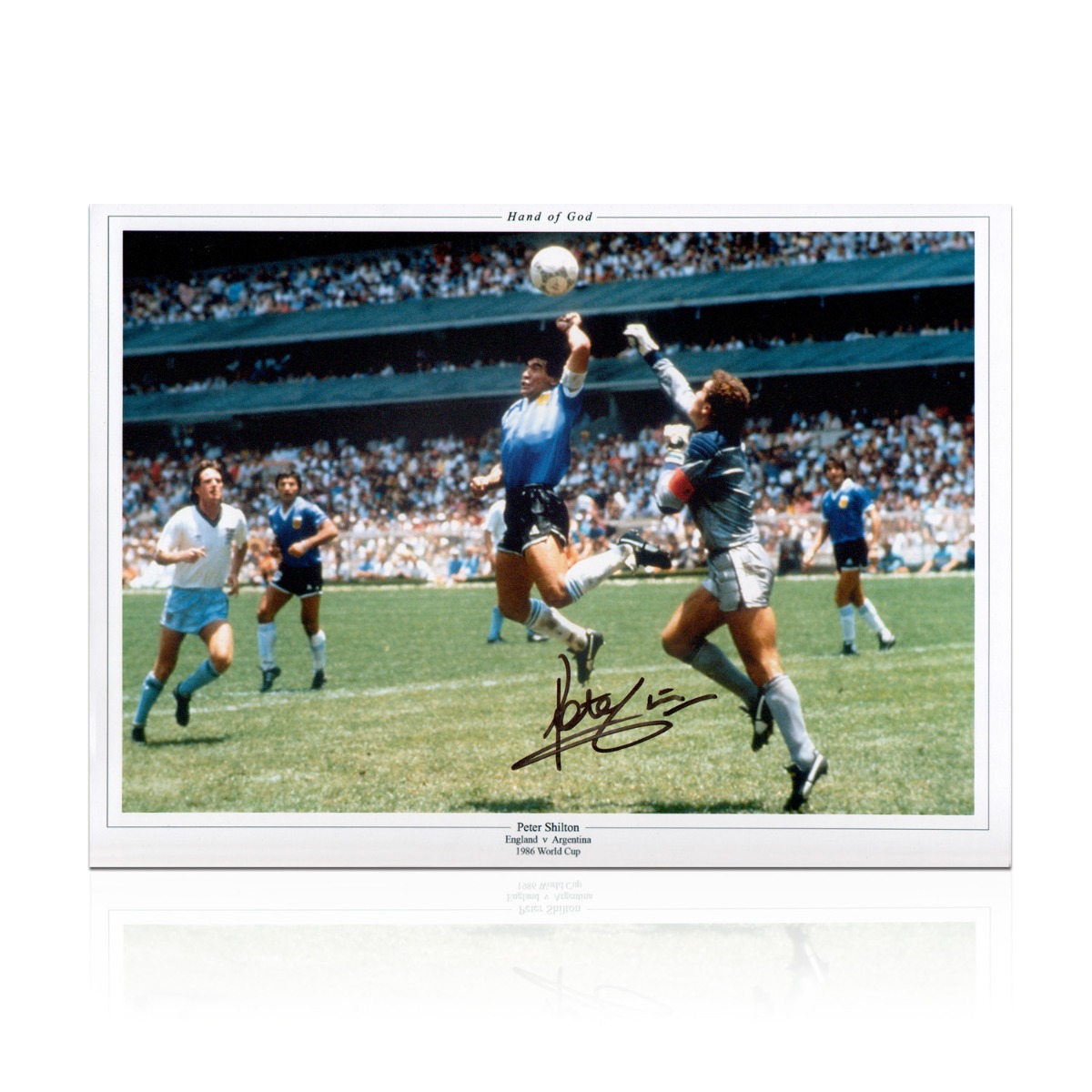 Want to commemorate one of the most controversial moments it football. The infamous Hand of God goal. This photo is signed by Peter Shilton and shows the exact moment Diego Maradona handled the ball during England's 1986 World Cup quarter-final against Argentina.
Glenn Hoddle Signed Tottenham Hotspur Photo: The Volley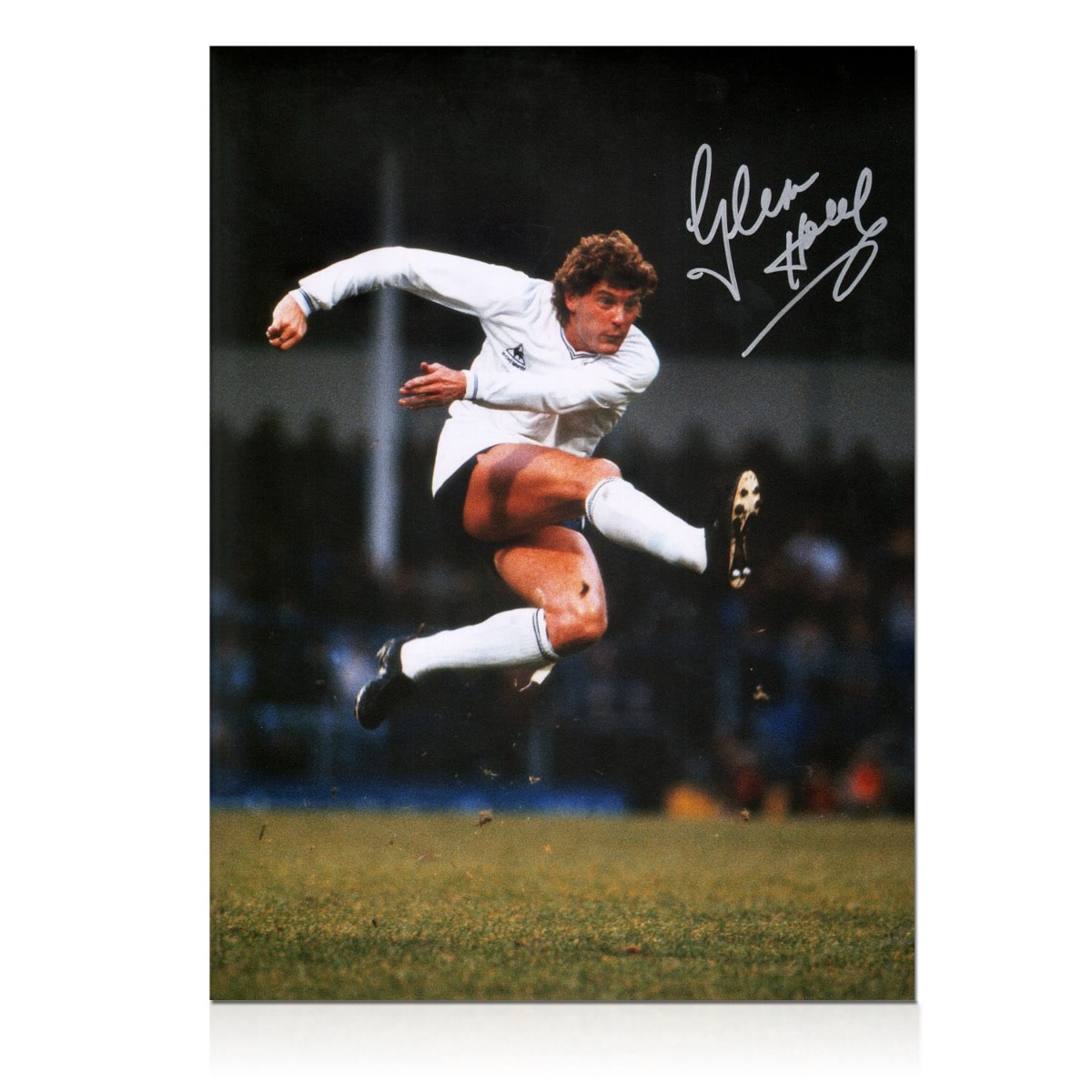 Celebrate the Spurs legend, Glenn Hoddle. This incredible photo shows the Tottenham Hotspur legend during his Eighties heyday with the club. Hoddle was a gifted passer blessed with supreme touch and vision and remains one of Spurs fans' all-time favourite players.
Gifts from £40-£50
Scott Brown Signed Celtic Photo: The Captain
Wondering what to get a Celtic fan? This photo shows Captain Scott Brown receiving applause from the Celtic fans after a 5-1 win against Rangers. Brown has been Celtic's captain since 2010. During that time, he has won 8 Scottish championships, 4 Scottish Cups, and 4 Scottish League Cups.
Tom Baker Dr Who Signed Tardis Poster
What do you buy the ultimate Dr Who fan? This superb Doctor Who poster signed by the fourth Doctor, Tom Baker. One of the most popular Doctors of all time. He played the role for seven seasons, the longest of any Doctor, and he returned the programme to the heights of popularity.
Paul Scholes Signed Manchester United Photograph: The Barcelona Goal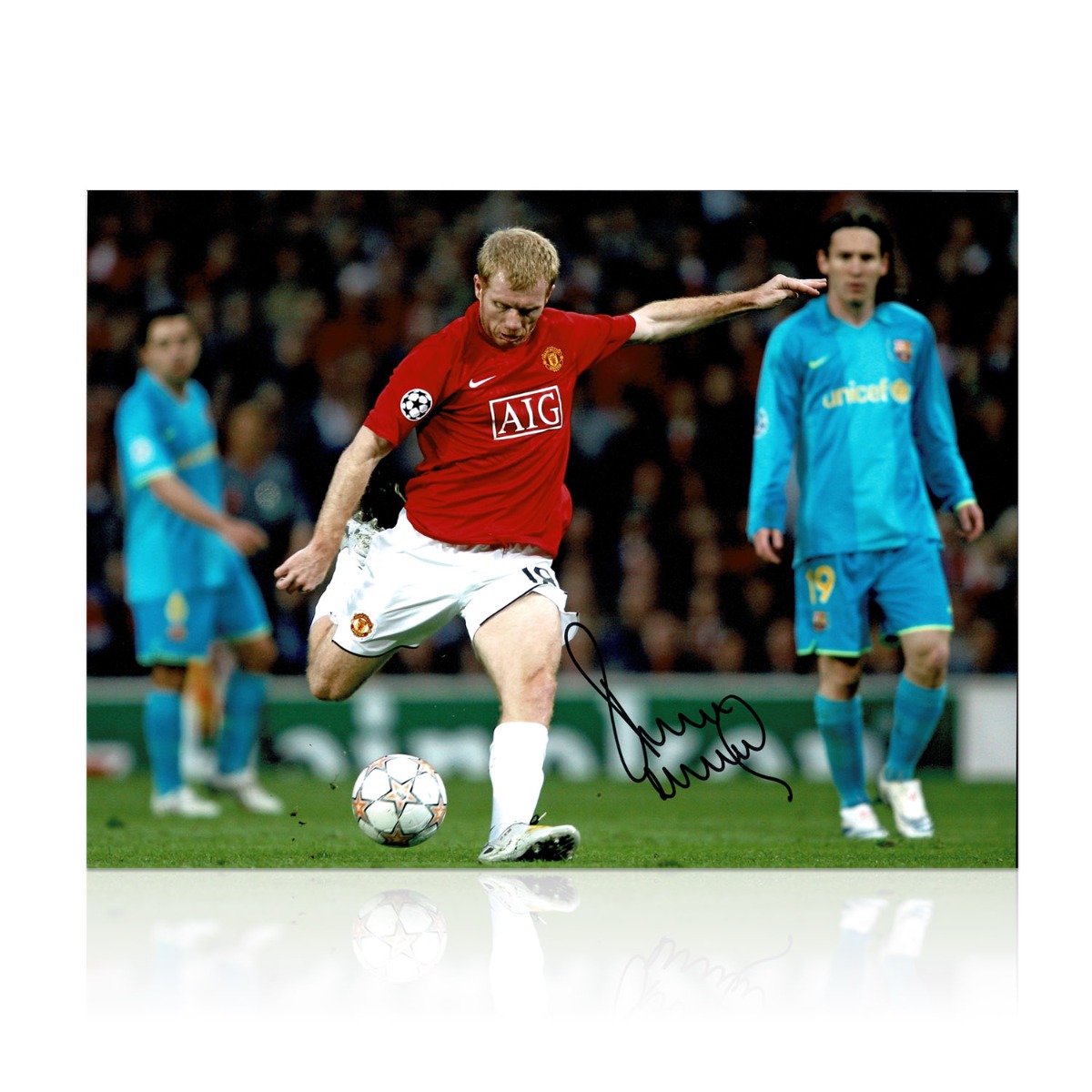 This stunning photo shows Scholes launching his famous unstoppable strike against Barcelona in the 2008 Champions League semi-final at Old Trafford. It was the only goal in the two legs and put United into the final against Chelsea in Moscow, which they won.
Sir Alastair Cook Signed Cricket Photo: Ashes Winner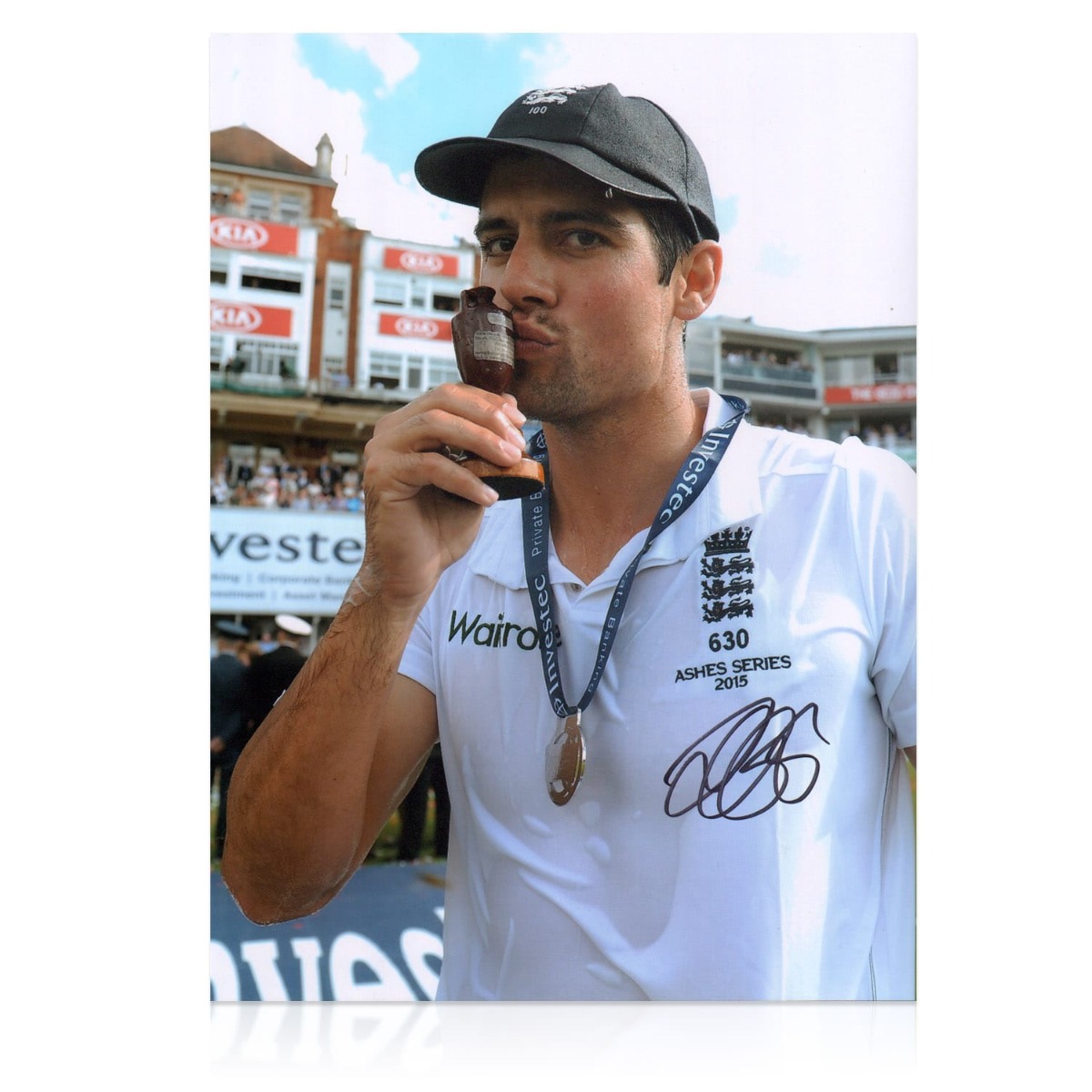 Cricket fan? Get them a photo of Alistair Cook with the Ashes. Cook is a legend of English cricket and ais both the highest run-scorer and most capped player for the Three Lions in tests. He retired in September 2018, scoring an emotional century in his last ever inning for England, at The Oval against India.