We're very happy to announce that we have held a private signing session with Manchester United star, Bruno Fernandes! The signing took place during February 2021 in Manchester, with all COVID safety precautions put into place.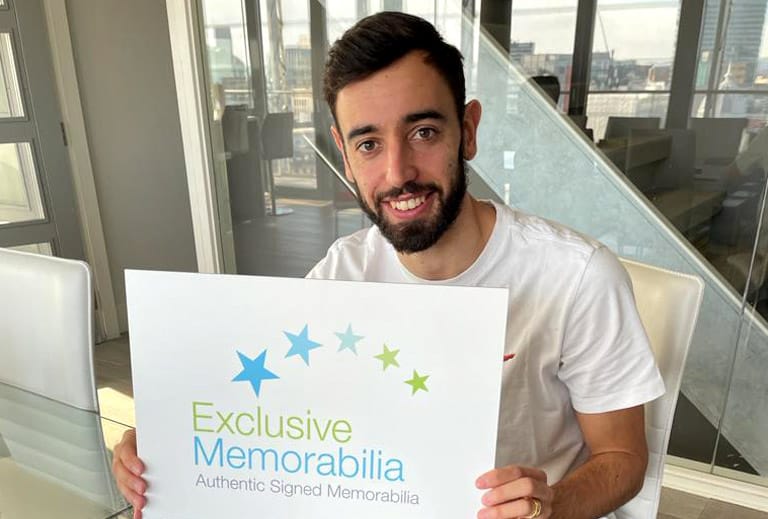 Fernandes started his senior career at 18 with Italian Serie B side Novara but soon made a move to Serie A side Udinese, followed by Sampdoria three years later. However after five years in Italy, he signed with Sporting CP for a reported fee of €8.5 million plus bonuses.
He won back-to-back Taças da Liga in 2018 and 2019, as well as the Taça de Portugal, leading to him being named Primeira Liga Player of the Year in both seasons.
In 2018–19, he scored a record of 33 goals in all competitions, making him the highest-scoring Portuguese midfielder and the highest-scoring midfielder in Europe in a single season.
Fernandes' performances sparked the interest of Premier League clubs. Manchester United signed him for an initial €55 million (£47 million) in January 2020.
In June 2020, he won multiple club and Premier League awards, including Premier League Player of the Month and Goal of the Month. He became the first player to win both awards concurrently in Premier League history.
Fernandes made his senior debut for Portugal in November 2017. He was chosen in Portugal's squads for the 2018 World Cup and was part of the 2019 UEFA Nations League winning team. He was named in the Nations League's Team of the Tournament after his stand-out performances.
Bruno signed a range of items for our team, starting with an iconic photo of him celebrating after scoring his team's first goal from the penalty spot during the UEFA Europa League round of 32 second leg match against Club Brugge at Old Trafford. The official Manchester United 2020-21 home shirts were all hand-signed by Bruno over the session. These can be framed in multiple different styles, bought in a gift box or purchased on it's own. He also signed two different Nike football boots- one in black and the other in white. A very small number of official Portugal 2020-21 home shirts were also signed- these will sell out very quickly!
You can view the whole signed Bruno Fernandes collection here!