11 goals in 16 matches under Guus Hiddink. Is Diego Costa still/once again one of the most feared strikers in England and the wider world of football?
Diego Costa never had it easy in his life. Born in Lagarto, a Brazilian city in the state of Sergipe, Diego was named by his father as an homage to Argentinian legend Diego Maradona. Having spent his entire childhood playing on the dirt pitches that you can find in pretty much any corner of the country, he moved from his home city to Brazil's economical capital São Paulo at the age of 15 to work and earn some money to help his family in their daily lives.
In the big city, Diego worked and trialed for clubs until becoming a professional for Barcelona Esportiva Capela, a name inspired by the Catalan club which Diego would later face.
At the Brazilian Barcelona, Diego was already temperamental and in a brawl with one of his opponents he was a given a four-month suspension due to 'physical alternation and dissenting the referee'. Despite his antics, his talent was clear and Diego was given an opportunity to join Portuguese club Braga by super-agent Jorge Mendes.
Diego moved to Europe in 2006 despite his father's opposition, and had to endure homesickness and loneliness as well as cold temperatures for a guy that lived his entire life until then in a tropical country. His time with Braga, was short, though; soon after his move to Portugal, Mendes arranged a transfer for him to Spanish club Atlético Madrid.
From 2007 to 2009, Diego spent his time on multiple loans showing his prowess as a striker, but also with little control over his own antics. Young and new to the country, Costa accumulated yellow and red cards as well as enemies on and off the pitch, sometimes even within the fanbase and members of the club he was a part of. Eventually in 2009, Diego was sold to Valladolid by Atlético with a buy-back clause although his wish was to move back to Brazil to get closer to his family after 3 years away from his home country.

Ryan Shotton of Stoke challenges Diego Costa of Valladolid during the pre season friendly between Stoke and Valladolid in 2009
In Valladolid, Costa enjoyed great form by scoring 6 goals in 12 games but as the season went on, his production fell apart. He couldn't do much to help his team save themselves from relegation from La Liga; but he done enough to earn back the trust of Atlético Madrid, who activated his buy-back clause by the end of the 2009-10 season.
Diego had fellow South American strikers Diego Forlán and Sergio Agüero in front of him in the pecking order within the Atlético squad. The first was coming off a great World Cup campaign from Uruguay, while the latter was set to have his best season for the Colchoneros, which also motivated English club Manchester City to acquire him in the next year. Therefore, Diego played an auxiliary role to his colleagues, still managing to grab 6 goals in the few minutes he got on the pitch.
Diego was also set to move to a new club
Sergio Agüero moved to England, while Diego Forlán was transferred to Italian club Inter Milan in the start of the 2011-12 season. Diego was also set to move to a new club in Turkish side Besiktas, but (un)luckily he was stricken by a knee injury picked up in preseason that took him off the pitch for 6 months. His transfer to Besiktas was canceled and on his return to fitness, Atlético sent Diego to Rayo Vallecano where he scored 10 goals in 16 games for the side, becoming a cult hero for a regional rival of his parent club.
Atlético was ready to give Diego a true shot at spearheading their attack in the next season. Alongside Colombian striker Falcao García, Diego ran opponents ragged on every occasion, accumulating 20 goals in 44 matches through every competition despite not being Atlético's main goalscorer. He wasn't free from controversy: in the regional derby against Spanish giants Real Madrid, Diego got involved in a spitting incident with opposing defender Sergio Ramos; shortly after, Diego headbutted an opponent in an Europa League game and got himself a red card as well as a four-match ban from UEFA. Neither of which were enough for him to lose trust from manager Diego Simeone, who retained his belief on his player despite growing dissent from people outside and within the club.
His form during the season earned him two caps for the Brazilian national team in March 2013. Then-Brazil manager Luiz Felipe Scolari was desperate to find a proper centre-forward for his side, and tried using Diego in the position. He wasn't too impressive in the two games he was a part off, but he deservedly felt neglected by the team and made thereafter another disputable move in his career by changing his allegiance to the Spanish national team six months after the incident.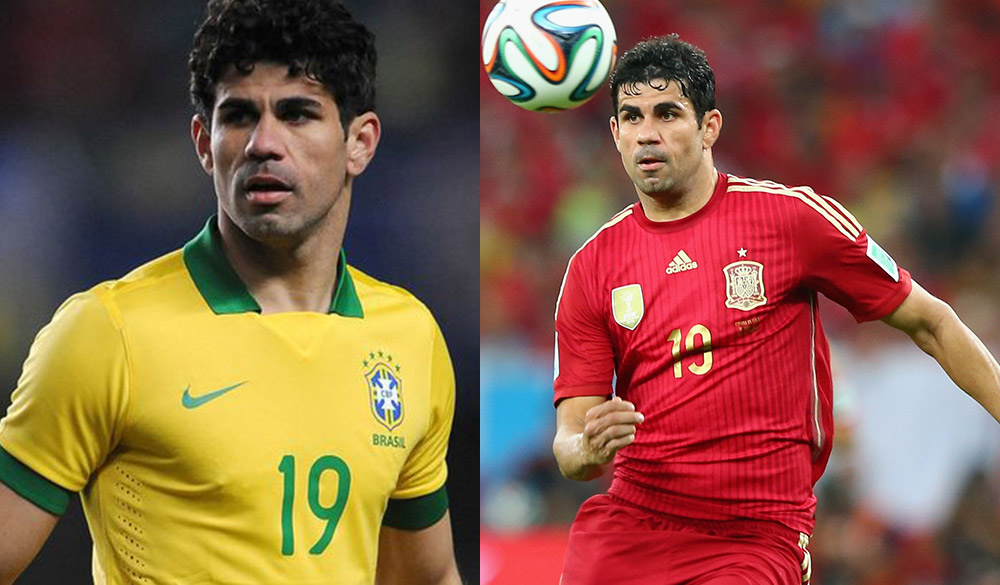 Diego finished off the season carrying the Spanish Cup trophy as the competition's top goalscorer, beating Real Madrid's Cristiano Ronaldo for this laurel by scoring a goal in the finals against Los Blancos.
Once again, Diego saw a fellow striker and South American leave the club with Radamel Falcao's transfer to AS Monaco for record figures. That also meant that for the first time, Diego would be the focal point of Atlético's attacks, and would need to provide his club with good form in front of the goal. Gladly for him and his team, he was more than able to do so.
The 2013-14 season was a remarkable one for Diego and Atlético, as he scored 36 goals for the club and helped them win the Spanish League after 9 years of monopoly between Real Madrid and Barcelona for the trophy. His 27-goal tally in La Liga was only behind aliens known by the names of Cristiano Ronaldo and Lionel Messi. He also scored 8 goals in 9 Champions League matches, with Atlético reaching the finals of the competition. Costa, unfortunately, wasn't able to play the entire match due to a hamstring injury that was rumoured to be treated by horse placenta in hopes that it would grant his faster recovery.
the decision put Diego in the eye of a storm
The decision to join the Spanish national team would put Diego in the eye of a storm as he was chosen by Vicente del Bosque to play the 2014 World Cup in Brazil. Diego was the constant target of Brazilian fans, who consistently booed him whenever he touched the ball. By chants of "traitor!" emanating from the stadia he stepped his foot, Diego couldn't do much to save Spain from one of the worst performances given by a defending World Cup winner.
Only a week after Spain's early elimination from the World Cup, Diego's move to Chelsea was officially announced by the English club. The move divided the fanbase the instant it was confirmed: some fans wary of his fame as a ruthless brawler, and others willing to give Diego their trust as long as he could give back good performances and goals.
'Costa Crimes'
Four goals in his first three matches were enough for Diego to dissipate any worries from Chelsea fans in regards to his antics. Soon enough, the Londoners saw that his antics also translated into a fighting spirit that the club longed after dealing with so many subpar strikers leading their line in the last few years. His attitude on the pitch was still controversial, and the English media fed off it with infamous headlines such as "Costa Crimes" after an incident where Diego seemingly stepped on Liverpool's Emre Can ankle on the sidelines of a heavily disputed match between the two sides at Stamford Bridge.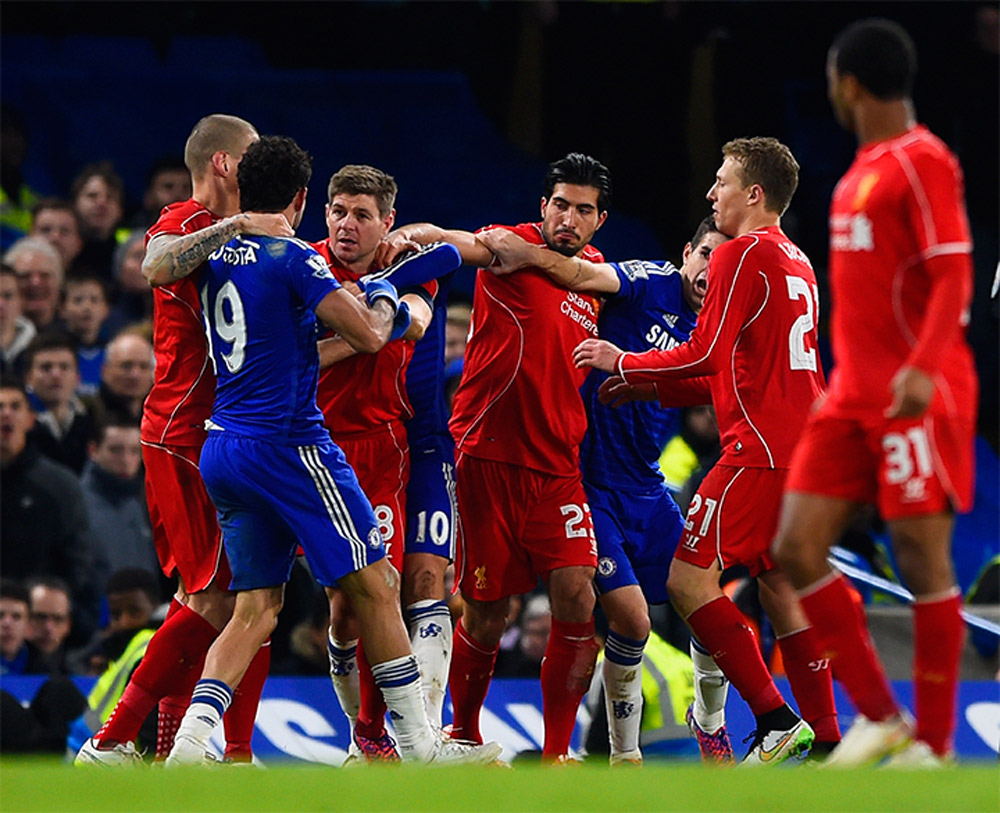 Diego Costa of Chelsea clashes with Steven Gerrard and Emre Can during the Capital One Cup Semi-Final second leg on January 27, 2015
Diego ended the season the 2014-15 season, his first at Chelsea, with 21 goals in 37 matches – 20 of which in the Premier League. His partnership with Spanish maestro Cesc Fàbregas gave Chelsea the punch they were missing while the likes of Demba Ba, Fernando Torres and Samuel Eto'o rotated as centre-forwards for the Blues. Ultimately the team was rewarded with Premier League and Capital One Cup titles, the first certainly with a lot of influence by Diego.
Despite the glories by the end of the season, Chelsea's championship-winning team was still lacking in some areas. After an amazing first half of the season in the league, Chelsea suffered a heavy defeat in the hands of North London rivals Tottenham: a 5-3 defeat in January 1st of 2015 that cemented Harry Kane's place as a potential star for the English Team. The result also marked a turn for Chelsea and most of their players, who still managed to get a dominant performance in a 5-0 win against Swansea two weeks after the Tottenham loss, but whose showings weren't the same.
The 2015-16 season started off badly for Chelsea. Poor dealings in the transfer window as well as bad preparation for the preseason period set the club back a few steps when compared to their opponents. In a completely opposite scenario to the start of their campaign in the season before, the Blues spent most of their time in the lower positions of the Premier League table and almost got themselves into the relegation zone, leading legendary manager José Mourinho to be sacked by the club in last December.
Unfortunately, Diego suffered with the club's bad form as well as his own through these rough times. Under Mourinho's guidance, he scored 4 goals in 21 matches. He got involved in confrontations with Arsenal defenders Laurent Koscielny and Gabriel, making the latter earn a red card but afterwards having himself banned by England's Football Association for three matches. Media and public were craving more and more for bad publicity from Chelsea and Diego; two of the biggest villains in English football's recent history, falling apart and making a nice spectacle for neutrals.
Chelsea acted late, but swiftly and hired manager Guus Hiddink to fill in for Mourinho's absence. And under Hiddink's command, Diego flourished and returned to his "goal-assassin" form.
11 goals scored in 16 matches over a span of 3 months show that Diego remains as one of the most feared strikers in England and in the world of football. And such a divisive figure within the spectre of the sport deserves the kind of respect he gets on both ways.
To the masses of neutrals and opponents that he faces on the pitches, he is the pantomime villain. The one guy who can ruin everything you built for in the blink of an eye; in the slight of a good pass from deep followed by a disconcerting run in front of a goalkeeper that sets the ball past him in a matter of seconds.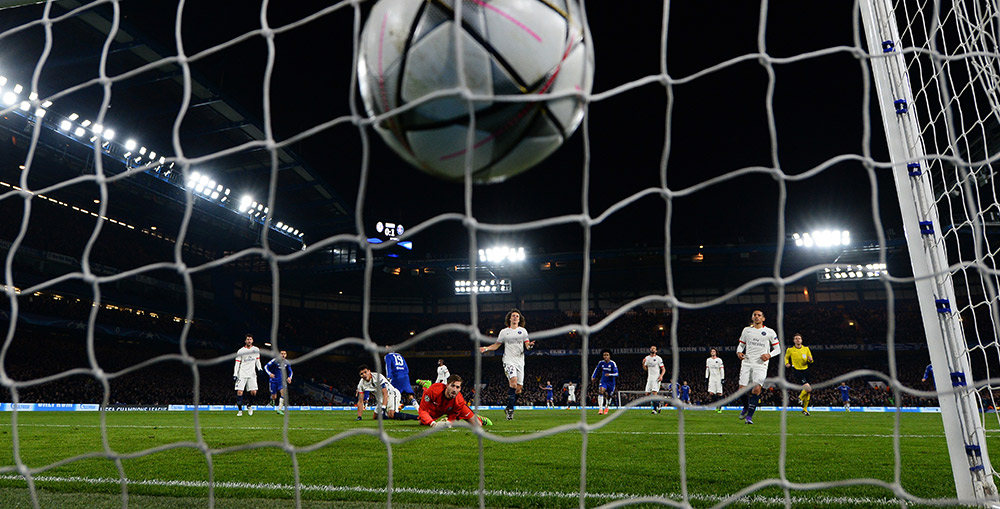 Costa of Chelsea scores to level the scores at 1-1 against PSG
But to Chelsea fans – and to fans of Atlético, Rayo Vallecano and many other teams that had the pleasure of having Diego in their ranks – he's a true hero. A hero with little to no patience; flawed in many areas, but as human as you can get. He's not as beautiful as David Beckham or Fernando Torres, nor is he as technically sound as Luis Suárez or Wayne Rooney. But he bleeds blue.
And nothing else matters.
---
If you think Diego Costa is worth paying homage to - check out our Diego Costa collection by clicking here