Unlike other companies, we ONLY sell products that have come from official signing sessions where the athlete/actor is paid a fee.
After being in this business for over 10 years, our directors are close to a number of our signees and have a great relationship with them and their team. We have signed with the likes of Eric Cantona, Pele, Anthony Joshua, Cristiano Ronaldo and many more on numerous occasions.
Our team at Exclusive Memorabilia pride ourselves on building strong relationships with signees and their agents and because of this we are able to hold private signing sessions with the athlete/actor. Signings are organised between our Directors (Tom Rollett and David Holland) and the signee. Once a contract is completed, then the planning can begin. We have had number of athletes on exclusive contracts over the past few years such as Jonny Wilkinson, Geraint Thomas and Martin Johnson. These contracts ensure that we are the only company to receive new memorabilia from these athletes during the contracted time!
Preparing for the signing sessions can take numerous weeks or even months. When purchasing items to be signed, we only buy through official licensed sellers such as Score Draw, Le Coq Sportif and Prodirect. Only original products or officially licensed re-makes will ever be used.
Our signing sessions consist of members of our team meeting the signee at an agreed location (this could be nationally or internationally) such as their home, a sports ground or at our main office in Exeter.
At the beginning of the signing, we ask the player/actor to sign one of each item in the product line- this allows us to obtain clear photo proof for each item. A number of athletes have also allowed us to video the signing session, allowing for video proof of each item. Signing videos from the likes of Anthony Joshua, Pele and Jonny Wilkinson can be found on our signing videos page. The signing will then continue with all items being signed with our team present.
Our private signing sessions can last anywhere from 30 minutes to whole days, depending on the signees speed and number of items being signed. At these signings we may have anything from one to five members of our team present- depending on the scale of the event.
We strive to ensure that every item is perfect; to achieve this we ensure that the signee is not rushed, items are carefully passed to members of the team and that items are given adequate time to dry. Unfortunately there might be a couple of items which fail our quality assurance checks as they may not meet our high expectations. We sometimes ell these on our damaged stock collection for a reduced price- allowing customers with a smaller budget the chance to own something from their sporting heroes.
When the signing is complete and the items are returned to the warehouse, we are then able to prepare the items to be sold. One of each item in the product range is photographed and then added to the website.
Our team prepares Certificates Of Authenticity for every item signed at our private signings. These COA's contain photo proof of the athlete/actor signing the product, product photo, the date and location of where the signing session took place. These certificates also contain the signature of two of our Directors to prove that these items are authentic.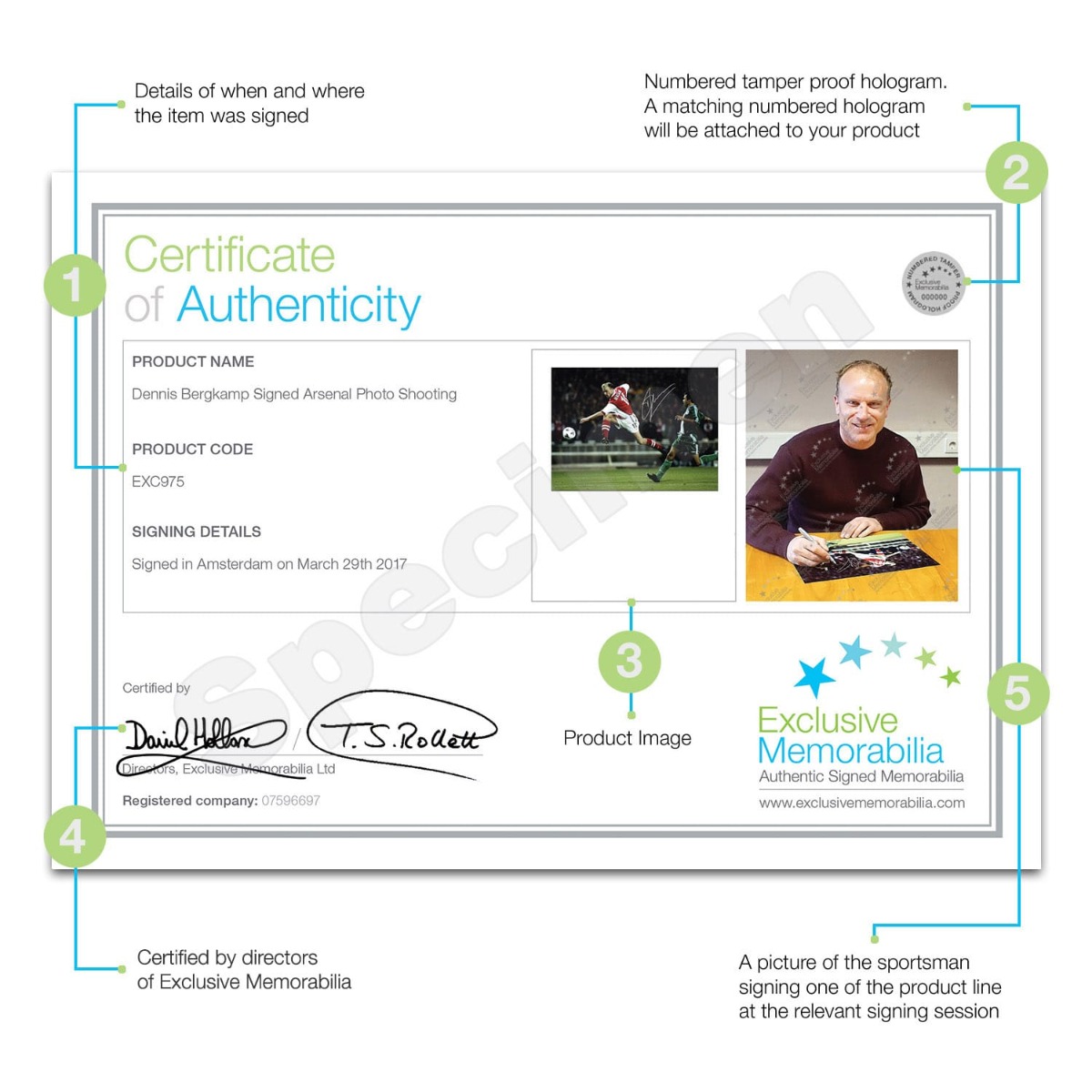 The majority of our items are from our own private signings, however a small number do come from other reputable companies who work to the same standards as us. We have incredible working partnerships with a number of other companies across the World, which allows us to broaden our range of collections and sign with international stars who are harder to get in contact with. A number of these items will come with Beckett or PSA/DNA certificate, which means the items have been authenticated by a third-party company who were present at the signing sessions.
We never buy memorabilia from the public or private sellers!
Authenticity is the number one consideration for any customer when purchasing signed memorabilia. Exclusive Memorabilia unconditionally guarantee the authenticity of all our products. You can read more information regarding authenticity on our Buyers Guide .