We are delighted to announce that two Manchester United legends have signed for Exclusive Memorabilia.
First Bryan Robson signed a selection of Man United shirts, including the 1983 and 1985 FA Cup final jerseys and the iconic 1991 European Cup Winners Cup shirt.
Robbo also signed some classic Seventies West Bromwich Albion shirts and 1986 England World Cup shirts.
Captain Marvel was on great form, having spent the night before performing his duties as ambassador at Old Trafford before and after United's big clash with Chelsea in the Premiership.
He said he was hugely impressed by the way David Moyes had taken over the reins from Sir Alex Ferguson and stated his belief that Wayne Rooney would not be allowed to the leave the club for any destination, let alone Stamford Bridge.
Bryan is pictured below with Exclusive director Tom Rollett.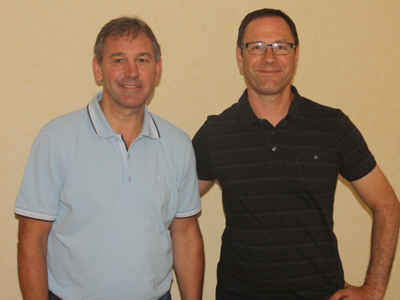 Denis Law also signed a selection of Manchester United shirts, including replicas of the famous 1963 FA Cup final shirt and various multi-signed shirts that we will unveil in due course.
Denis, of course, was also a legend for his country, and we have added a superb embroidered shirt commemorating Scotland's famous 3-2 victory over England in 1967.
The Tartan Army loved to claim that it made them unofficial World Champions at the time, and it remains one of Scotland's most cherished wins.
Denis Law is pictured below with Exclusive director David Holland.