We're extremely happy to announce that we have held a private signing session with football legend, Didier Drogba! The signing took place in the Ivory Coast on June 30, 2021 with all COVID safety precautions put into place.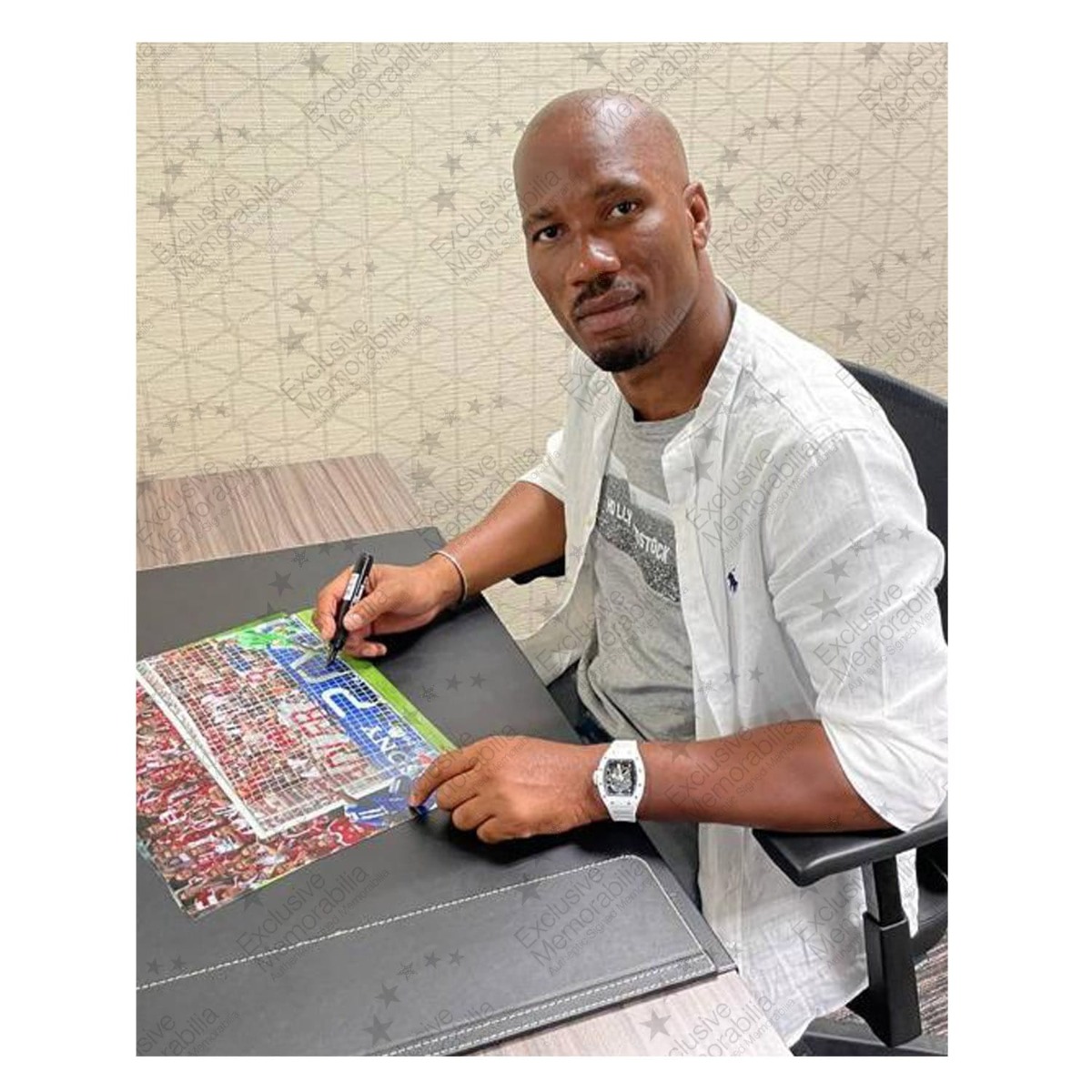 Didier started his professional career aged 18 for Ligue 2 club Le Mans. Between 2002-2004 Didier impressed in Ligue 1, scoring 20 goals for Guingamp and then 19 for Marseille. At the end of the 203/04 season, Didier played a pivotal role in helping Olympique de Marseille reach the UEFA Cup Final.
His strong goal scoring record quickly attracted interest from clubs around the World. In July 2004, Chelsea signed Didier for a club record £24 million fee, making him the most expensive Ivorian player in history. In his first season with Chelsea he helped the club win the Premier League- their first league title in 50 years! Didier also scored in extra-time during the 2005 Carling Cup final to help Chelsea beat Liverpool 3-2.
Drogba's impact on the Premier League continued into the next season, as Chelsea retained the Premier League title for a second season in a row. Drogba shone in the Community Shield Final by scoring two goals against Arsenal to secure a 2-1 win- adding another piece of silverware to his growing collection!
Drogba inherited his iconic number 15 shirt from Damien Duff at the beginning of the 2006/07 season- a season that would be a personal success for Drogba. He scored 33 goals in all competitions, including 20 goals in the Premier League which gave him the golden boot. Drogba earned the 2007 Football League Cup Final Man of The Match award after his two incredible goals helped Chelsea once again beat Arsenal 2-1 in a final. In his last competitive game that season, he scored the winning goal against Manchester United in the FA Cup final. Drogba became the only player to score in both English domestic finals in the same season and win both. His legendary "big game player" status was slowly being cemented.
Didier was plagued with injuries during the 2007/08 season, but made a return to play and score in the League Cup final. Drogba scored two iconic goals in the second leg of the 2008 Champions League semi-final against Liverpool, which Chelsea won 3–2. This led to Chelsea reaching their first ever Champions League Final- which they eventually lost on penalties to Manchester United. Injury troubles continued into the next season, leading to limited games for the club during the 2008/09 season. However, in the 2009 FA Cup Final Drogba returned to top form by scoring an equalizing goal which helped Chelsea secure a 2–1 win. This was his sixth goal in a major cup final in England.
Drogba started the 2009/10 season in perfect form, scoring a vital penalty during a shoot-out win in the 2009 Community Shield Final. Goals came flooding in and soon enough Drogba scored his 100th goal for Chelsea against Wigan Athletic. On 9 May, he helped Chelsea to win the Premier League by scoring a hat-trick in an 8–0 win over Wigan Athletic. He not only collected his third League winner's medal but also won the Golden Boot for the season, his second in the Premier League. A week after securing the Premier League title, Drogba scored the only goal of the 2010 FA Cup Final against Portsmouth. Due to illness and international fixtures, Didier didn't feature as heavily for Chelsea in the 2010/11 season but still managed to continue his goal-scoring rampage- even picking up a hat-trick against West Brom.
At the beginning of the 2011/12 season, Didier rejected a new deal with Chelsea and was set to move clubs when his contract expired at the end of the year. On December 31st 2011, Drogba scored his 150th goal for Chelsea, putting him level with Peter Osgood and Roy Bentley in terms of the club's highest goal scorers of all time. His 100th Premier League goal for Chelsea came a few months later- the first African player to reach that landmark. He made history by being the first player to score in four different FA Cup Finals, after he scored the winning goal in Chelsea's 2–1 victory over Liverpool in the 2012 final. The highlight of his professional career came on May 19th 2012, when Chelsea played Bayern Munich in the Champions League final. Chelsea were 1-0 down in the 88th minute when Drogba scored a fantastic header, taking Chelsea into extra time and then penalties. Drawn 3-3 in the shootout, Drogba stepped up to take the final regulation penalty and scored the winning goal! Sir Alex Ferguson noted "As far as I was concerned, he [Drogba] won the Champions League for Chelsea."
At the end of the season, Drogba joined Chinese Super League side Shanghai Shenhua but soon left to sign for Galatasaray in January 2013.
Drogba completed his historic return to Chelsea on a free transfer in July 2014. He reunited with manager Jose Mourinho, who said that "Didier is coming with the mentality to make more history". In what was his final season with the club, Didier made 28 appearances and scored 4 more goals. Alongside players like Eden Hazard and Diego Costa, Didier helped the club win the Premier League that season- his fourth title!
Drogba finished his Chelsea career after making a total 341 appearances for the club and scored 157 goals- making him the club's fourth highest goal scorer of all time. Adored and appreciated by the fans at Stamford Bridge, Drogba was named in the Chelsea team of the 2010–2020 decade. In November 2012, he was named Chelsea's greatest ever player in a poll of 20,000 fans.
Celebrate Didier Drogba's illustrious Chelsea career with memorabilia signed by the man himself! Shop our range of Didier Drogba signed shirts, iconic photos and street signs here.